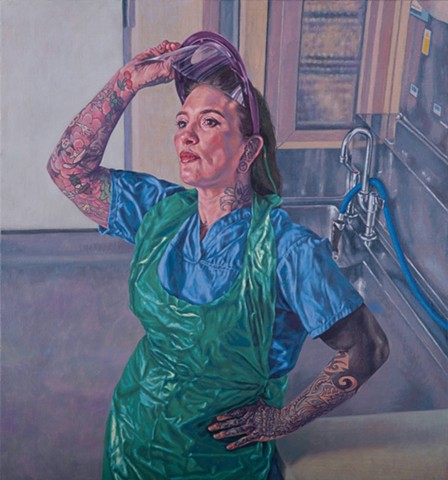 KATIE TOMKINS - Mortuary & Post Mortem Services Manager at West Hertfordshire NHS Trust.
Oil on Linen
75 x 70 cm
2020
Collection of the Science Museum
I am so deeply proud to share the news that my portrait of Katie Tomkins, one of 13,000+ created for Portraits for NHS Heroes has entered the permanent collection of the Science Museum as part of their COVID-19 Collecting Project.
Such gratitude goes to curator Dr Katy Barrett for championing this acquisition, to Natalie Miles Kemp for bringing this portrait into being & for all her support all the way & to Tom Croft the originator of the project. This honour is for all the subjects of all the portraits, for their bravery and resilience. Above all, my love and thanks to Katie, this is for her.
Selina Hurley has written a wonderful pieces on the Science Museum blog about the acquisition:
https://www.sciencemuseumgroup.org.uk/.../artwork-roxana.../
"I was asked to paint Katie Tomkins, Mortuary & Post Mortem Services Manager by her colleague Natalie Miles - Kemp on behalf of West Hertfordshire Hospitals NHS Trust. Katie was nominated by the trust in recognition of her outstanding leadership through the Covid-19 crisis and in celebration of her extraordinary courage, working in the less discussed field of mortuary care. When I 'met' Katie via video link and learned more about her role during the crisis I was awe-struck by her extraordinary strength and tenderness during this most challenging of situations, but also by her unconventional, distinctive appearance: her body art and tattoos countering the uniformity of her scrubs and PPE. In combination with her contemporariness her style suggested for me something of the Rosie the Riveter archetype and the wartime portraits of Dame Laura Knight. I hoped with my portrait to evoke something of the focus, resolve and heroism of Knight's subjects, placing Katie within the sanitized realm of her highly-skilled and indescribably challenging work, simultaneously appraising the day past while readying herself for the demands of the next day to come."