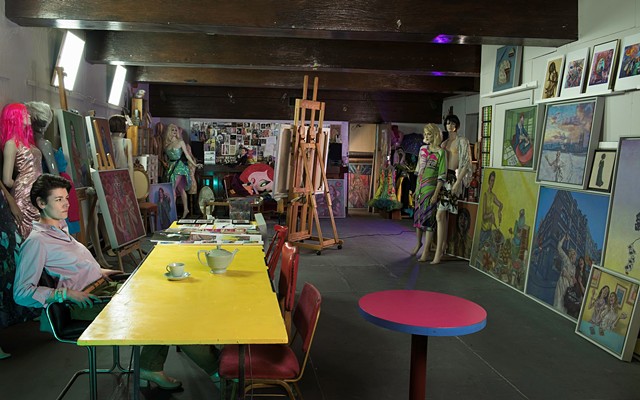 NEWS Roxana Halls has created the Stretching Room paintings for HAUNTED MANSION by Disney, due to be released in the US on 28th July and the UK on the 11th August 2023. The painting are now held in the Disney Archive collection
Roxana Halls' portrait of Katie Tomkins - Mortuary & Post Mortem Services Manager at West Hertfordshire NHS Trust has been acquired for the permanent collection of the SCIENCE MUSEUM as part of their COVID-19 Collecting Project. The portrait was selected from among over 15,000 Portraits for NHS Heroes worldwide to represent them
Roxana Halls' portrait of Horse McDonald was acquired for the permanent collection of the NATIONAL GALLERIES OF SCOTLAND and is currently on display in the Modern Portrait rooms of the Scottish National Portrait Gallery
Roxana Halls featured in episode 1 of EXTRAORDINARY PORTRAITS presented by Tinie first aired on BBC One 27th February at 6:30pm & repeated on 28th February at 11:10pm. Her painting from the show was recently exhibited at Turner Contemporary Gallery, Margate
NEWS Roxana Halls recently curated, exhibited in and created a new large scale work for FUNNY HA HA held at Maddox Gallery, Maddox Street, Mayfair London from the 1st Dec 2022 - 22nd Jan 2023. Artists included Tracey Moffatt, Harland Miller, Laurie Lipton, David Shrigley, Wilfred Wood, Stella Vine, Sarah Maple & Wayne White
Roxana Halls created a new work in collaboration with the HOUSE of CAROLINA HERRERA & InFems for their first NFT collection for International Women's Day NIGHTCLUBBING
Roxana Halls last solo exhibition EYES OF ROXANA HALLS was held at Gallery 46, Whitechapel, London from 11th - 24th May 2022, curated by DuoVision.
Halls' previous solo exhibition CRIME SPREE was held at Colley Ison Gallery in Sept 2021
NEWS: Roxana Halls was exhibited in 2022 in the group exhibition of international artists at HAUS KUNST MITTE, Berlin BODIES IN TROUBLE
New work by Roxana Halls was recently exhibited in SURREAL SO GOOD at TW FINE ART, Palm Beach, FL in April 2022
A discussion with Catherine McCormack for UNIT London on Hélène Cixous and the influence on Halls work The Politics of Female Sexual Joy can be viewed via Halls YouTube channel
Roxana Halls was in conversation with Nicola Jennings and The Colnaghi Foundation on laughter, self-portraiture and her work in relation to the art of Judith Leyster, Rembrandt, Goya and Bellini. COLNAGHI FOUNDATION online
Recent interview with Caitlin Hart in INJECTION magazine Disrupting Politeness: In Conversation with Roxana Halls
An interview with Frances Forbes-Carbine The noxious and the nourishing: Roxana Halls on women, violence and spectatorship for CULTURALL magazine
AJ Kelly wrote on Roxana Halls work and its broader feminist interpretation in AFTER ELLEN magazine Laughing While Under Surveillance: the Art of Roxana Halls
Roxana Halls was selected by Ruth Millington as one of 6 Women at the Forefront of Feminist Art Today alongside artists such as Shani Rhys James & Caroline Walker in RISE ART
Roxana Halls was invited by Tom Croft, originator of the Portraits For NHS Heroes project, to curate a selection of works for the Google Arts & Culture online gallery, in association with Paintings In Hospitals, Now Live. HEALTHCARE HEROES Halls selected images imbued with narratives of emotional power as one of the highlights from the Healthcare Heroes collection and wrote about a select few as well as her own portrait of Katie Tomkins for the project, alongside curations by art critic Kate Bryan, author Mark Haddon, artist Adebanji Alade and A&E nurse Harriet Durkin, the subject of the very first portrait by Tom himself.
A portrait of Roxana Halls by filmmaker and photographer Barry Bliss, taken for his MAKE A MARK series of photographs of 30 women painters was exhibited as part of the celebrations for the one hundredth anniversary of women's suffrage in the Upper Waiting Hall in the Palace of Westminster in March 2019
Roxana Halls portrait by fine art photographer and historian Carla van de Puttelaar forms part of her series 'Artfully Dressed:Women in the Artworld' a series of portraits of prominent and promising women in the art world, including some of the world's top female artists, gallerists and curators. Van de Puttelaar's portrait of Halls was one of 60 from the series to be exhibited in the art fair 'TEFAF Fall 2019
Her solo exhibition, SHADOW PLAY, was held at Hayhill Gallery, Cork Street, London, in November 2011.
'ROXANA HALLS' TINGLE - TANGLE' was exhibited at the National Theatre, South Bank, London in 2009.
Roxana Halls' work has been exhibited widely and is held in numerous private and public collections in the UK and internationally.
Frequently employing dark glamour and a wry deliberate humour, Halls' paintings depicting female impropriety offer a riposte to self-censure. Halls is drawn to investigate the meaning of cultural trends and invites the viewer to reflect on the interplay of gender, class, sexuality and spectatorship.
"My work using laughter explores women's internalised rules of conduct and my perception of their conflicted ever fluctuating response to external expectations. I'm interested in posing questions about the ways in which within contemporary culture women are appraised, influenced & policed and how this 'self- surveillance' circumscribes the repertoire of legitimate actions available to women.
Many of the subjects of my paintings offer a riposte to self-consciousness, they often teeter on the verge of indulging in 'catastrophic' behaviour, or at times topple over. They may be inappropriate and immune to self-censure. When I paint images of women laughing, eating or interacting I am always cognisant of the fact that the most seemingly innocuous actions can be subversive, just as acts of transgression may be foregrounded by the prosaic.
In making such work I have been inspired by writers such as Hélène Cixous, in particular her groundbreaking pieces such as 'Sorties' and 'The Laugh of the Medusa', in which she dissects the assymetrical relationship between sex and power. When I paint images depicting female pleasure, excessiveness or impropriety I think of Cixous, her ideas and her stories. She shows us how resistance can take many forms."
Halls has held numerous solo exhibitions including at The National Theatre, Beaux Arts Bath Gallery and Hayhill Gallery, Mayfair. Her work has been exhibited in numerous group shows including the BP Portrait Award, The RA Summer Exhibition, The Royal Society of Portrait Painters and the Ruth Borchard Self Portrait Competition. She has been invited on three occasions to exhibit work at The Discerning Eye exhibition.
She has created works commissioned by and for Arts Council England funded exhibitions and supported museum and touring shows including Kapow! held at Stoke Potteries Museum and Dear Christine which toured the UK in 2019 and 2020.
She regularly exhibits with Colley Ison Gallery in Birmingham with whom she held her most recent solo exhibition, CRIME SPREE in 2021.
Halls has been the recipient of several awards, including the Villiers David Prize, The Discerning Eye Founder's Purchase Prize, The Derwent Special Prize and the Elizabeth Greenshields Foundation Award and has been nominated for a 2021 DIVA Award.
She has written articles for and has been featured in many leading art magazines including Time Out, Modern Painters, Wallpaper*, Art of England, Artists & Illustrators, The Independent, The Sunday Telegraph, Galleries, The London Evening Standard, City AM, Airmail, Bust, Diva Magazine, FAD, Art North, Apollo Magazine and Trebuchet. She has appeared as a guest on BBC Woman's Hour and she was recorded in conversation at her London studio for BBC Radio 4's Only Artists.
Her commissions include Alan Grieve CBE, Chairman of the Jerwood Foundation, Debbie Bliss MBE, John Simopoulos, Emeritus Professor and has also produced a series of portraits for the BBC Arts production of Sitting by Katherine Parkinson, made for BBC FOUR and broadcast in early 2021.
She has curated exhibitions and contributed to symposia in the UK and been called upon to judge several art competitions.
A portrait of Roxana Halls was exhibited among a series of photographs of 30 women painters as part of the celebrations for the one hundredth anniversary of women's suffrage in the Upper Waiting Hall in the Palace of Westminster in March 2019.
Her work is held in numerous private and public collections in the UK and internationally including The Discerning Eye Collection, St. Catherine's College Oxford, Brian Sewell, Katherine Parkinson, Bel Mooney, Rosa Bosch, Julie Burchill, Debbie Bliss MBE, Luke Jennings, author of the Killing Eve novels.
Her paintings created for the Stretching Room of the 2023 film Haunted Mansion are held in the Disney Archive collection. In 2020 her portrait of Horse McDonald was purchased for the permanent collection of the Scottish National Portrait Gallery, which currently hangs in the Modern Gallery and her portrait of Katie Tomkins - Mortuary & Post Mortem Services Manager at West Hertfordshire NHS Trust has been acquired for the permanent collection of the Science Museum and was added to their permanent collection as part of their COVID-19 Collecting Project.



Roxana Halls in her Studio. Portrait by Matthew Tugwell
2018